Diversity
70+
Languages spoken in our schools
View full detail regarding the four culture strategies below: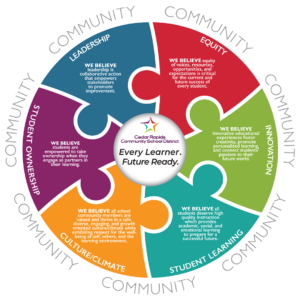 ---
Family engagement
Cedar Rapids Community School District is committed to developing effective methods to ensure that all
families are leveraged as collaborative partners through two way communication with their school. The purpose is to partner with families, recognizing their expertise related to their child, to provide a personalized learning experience that results in greater academic achievement.
Theory of action
IF CRCSD intentionally, equitably, and effectively engages families, THEN student achievement will increase.
Actions
Teacher/advisor/student groups
Four conversations—scripted and logged
Professional learning for administrators and teachers
Tier 2 intervention
SMART goals
By June of 2021, 90% of CRCSD families will report via survey:
• Access to teacher
• Feeling connected
• Know learning expectations
• Know how student is performing
• Engagement as school partner
---
Diversity, equity, and inclusion
The Cedar Rapids Community is committed to creating a safe and collaborative culture for all students, staff, families and community members. In order to deliver on this commitment, CRCSD will continue to leverage the Intercultural Development Inventory (IDI). The IDI® is the premier cross-cultural assessment of intercultural competence that is used to build organizational capacity to effectively bridge across cultural similarities and differences. By growing in our collective intercultural development, uplifting the voices of our marginalized communities, and empowering our community to make collective change, we will create a culture in which all stakeholders experience a true sense of belonging.
Theory of action
IF we collectively grow in our intercultural development while designing systems to elevate and empower the voices of our students, staff and families, THEN we will provide an equitable, safe, supportive, and collaborative culture in which diversity and individuality of every learner is valued and embraced.
Actions
Student voice
• Continue to support Black Student Unions in every high school with support systems.
• Continue the work of the student advisory team comprising and representing all student populations specifically to address culture, equity, anti-racism, and student-focused solutions to address concerns.
Professional learning and development
• We will utilize the Intercultural Development Continuum as organizational framework for professional development related to DEI goals
• Integrate individual professional development plans into ILDP's and IPDP's
• Create a safe and supportive environments to assist staff members in addressing topics that may have made them uncomfortable in the past
Teaching and learning
• Review all curriculum content and evaluate if multicultural content is represented throughout the curriculum year
• All cultural representations need to be embedded throughout course content…not just as a separate unit, lesson, or moment in the school year
• Review the high school African American Literature and History courses and secure them as meeting core requirements; assure that all English and Social Studies content includes African American Literature and History
• Evaluate students' course selections; use specific strategies to support students of color enrollment in future ready pathway courses
• Develop accountability and student feedback strategies to address curriculum content and multicultural representation within curriculum
• Consider other priorities that have been implemented throughout curriculum, for example anti-bullying efforts; prioritize anti-racism in the same manner
• Evaluate systems and structures that have created systemic racism overtime (assessments, course tracking, prerequisites, and state reporting)
Staffing and diversifying workforce
• Continue to implement Diversifying Workforce Strategic Plan for recruiting and "build our own" efforts
• Create a system for current employees of color to support their needs, collaborate with each other, and be deliberate as a district to pronounce this priority
• Evaluate hiring practices and prepare leaders and hiring managers to actively seek people of color into open positions
Community and parent support
• Connect with community partners and businesses to secure wrap around supports for families
• Consider a Parent to Parent support within schools: specific support to English Language Learning families
• Continue to leverage community partnerships, and expand the understanding of their programming so that all staff better understands how to support each other
• Secure language translation for all community members
• Create community and home visit systems–families do not always feel safe coming to school environments
• Utilize community spaces and places for school and community activities (parks, churches, community spaces)
• Expand ELL programming to all buildings
• Continue to utilize 1:1 device access for equity and access; provide families with learning in HOW to utilize technology tools for access
SMART goals
Student voice
• By June 2021, the rate at which CRCSD students of color respond favorably to diversity and inclusion, cultural awareness, and belonging (Panorama Survey) will grow by 5% compared to BOY baseline.
• By June 2021, enrollment in Black Student Unions at each of the 4 high schools will grow by 20%
Professional learning and development
• By the June 2024, all CRCSD staff members will have completed the IDI, four aligned professional learning sessions and individual professional growth plan
• By September 2022, all administrators and teachers will have an IDI goal in their ILPD or IPDP
Staffing and diversifying workforce
• By June 2022, employees of color favorably responding to cultural awareness, diversity and inclusion, and belonging will increase by 5% from BOY baseline.