View full detail regarding the six systems and resources strategies below: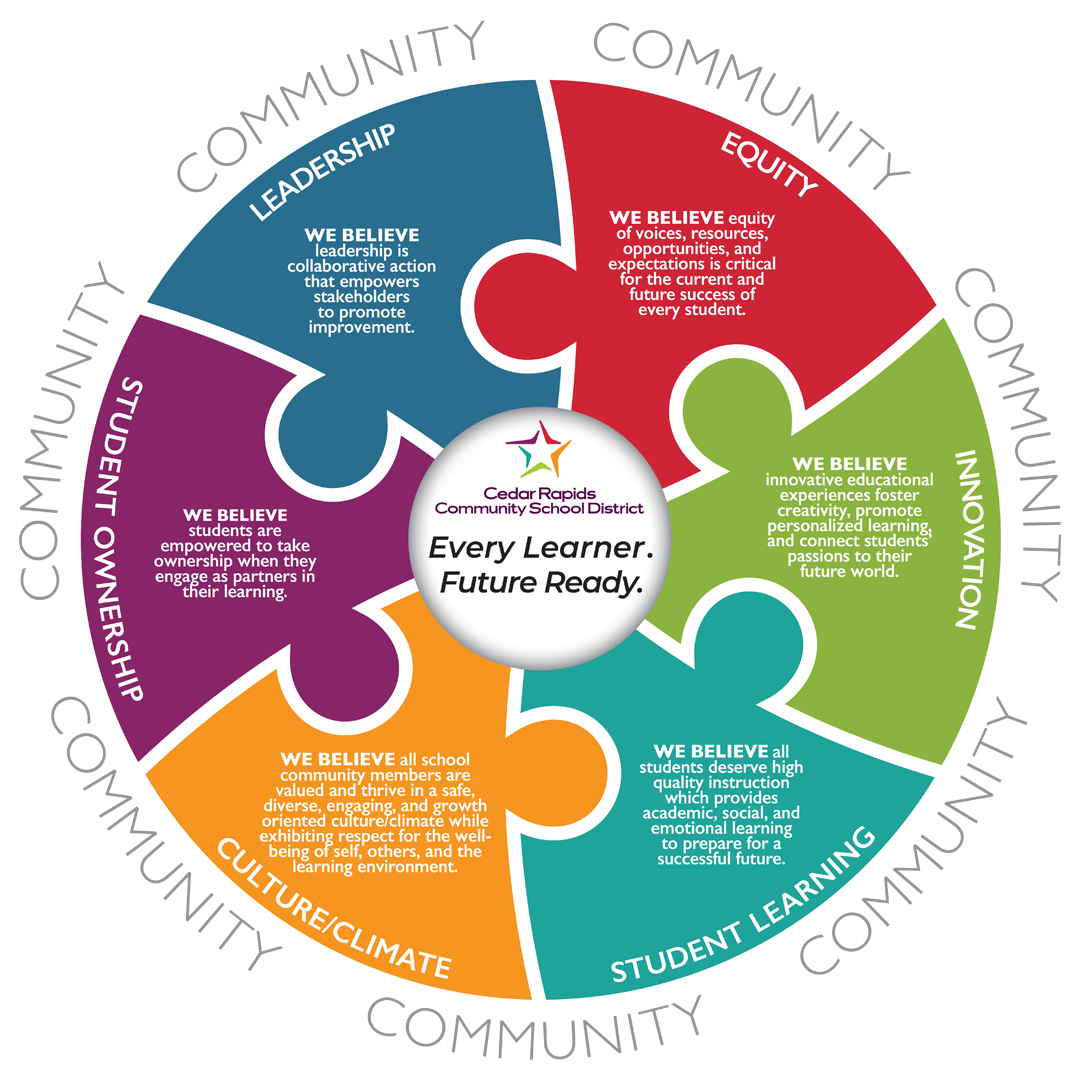 ---
Communications plan
The CRCSD Communications Plan supports all efforts to inform and engage key stakeholders (students, families, staff, community and media) via digital and traditional communication platforms. The varied actions include immediate crisis communication, detailed distribution of vital information, good news storytelling, strategic marketing messaging, community partnership communication and media relations.
Theory of action
IF CRCSD strategically, equitably, and consistently communicates with its stakeholders, THEN positive sentiment will prevail and families will increasingly choose CRCSD as their educational option.
| Actions | SMART goals |
| --- | --- |
| Continue e-Newsletter with a consistent weekly delivery. Content includes a combination of timely, need-to-know information "hard news" and evergreen "good news" feature stories. | Goal is to incrementally increase subscribers by 10% each year. Implement all recommendations from data analysis regarding content. |
| Continue to implement new processes and tools to distribute communication to ELL families | Since May 2020, changes have been implemented to increase ELL communication distribution. Increased distribution is measured via SchoolMessenger and Infinite Campus tools |
| Completely redesign CRCSD website as a communication tool that provides resources, encourages engagement, functions as a one-stop portal for respective stakeholders (student, parent, staff, community), and markets CRCSD as an enhanced educational option. Incorporate best practices, easy navigation, perpetually fresh content, and modern design. | Website launched in September 2021. |
| Continue the establishment of professional, beneficial media relationships. | Utilize Cision services to measure the amount of media coverage, reach and sentiment. |
| Increase social media following by 5% each year by implementing a social media ambassador program within each of the schools. | Track data analytics to measure increases. |
---
District finances
It is important that CRCSD continues to safeguard its assets, provide competitive wages and benefits to all of its employees, and meet the needs of its students while maintaining a strong financial position.
Theory of action
IF we have an unspent balance and solvency ratio above 10%, THEN we will be able to maintain our strong bond rating position which is vital to fully implement our facility master plan, and the ability to weather unforeseen financial impacts to our budget.
| Actions | SMART goals |
| --- | --- |
| We need to evaluate our current state of the district budget and make the necessary adjustments to make sure our solvency ratio stays above 10% and our unspent balance continues to improve to a point it reaches 10% of the maximum authorized budget. | By June of 2021, we will make the necessary budget adjustments to make sure our solvency ratio will not drop below 10% at the close of fiscal year 2021-2022. |
---
Employee enterprise system—Infinite Visions
Summary:
Recognize one system of record for workforce data in HR, Payroll, and Accounting
Key employee transactions are performed consistently and in compliance with regulations
Information can be easily retrieved by all employees
Operate as a data-driven organization for planning and decision making
Maximize employee systems and data through automation and self-service
Theory of action
IF we advance technology and align systems, THEN CRCSD will improve employee experience drive data-focused decisions, and more efficient use of district resources.
| Actions | SMART goals |
| --- | --- |
| Provide one robust system to meet the daily needs of HR, payroll, purchasing and accounting, and budgeting functions. | By July 1, 2021, CRCSD will transition from multiple employee and financial accounting systems to one employee enterprise system. |
| Provide an Employee Enterprise System that enhances communication and workflow between users, reduces confusion and duplication of tasks. | By July 1, 2021, CRCSD will streamline and standardize electronic processing of key processes. Through workflows and approvals increase line of sight to key employee movement and changes. |
| Provide administrators the capability to easily access and track information about their employees and budgets. | |
| Provide accurate state reporting, employee, and financial data. | |
| Provide a self-service portal which employees find useful and efficient to access and update their personal information and life events. | |
---
Facility master plan
Theory of action
IF we build new elementary schools that are designed for flexible and collaborative instructional practice, innovation, and community spaces, THEN we will better attract and serve our students academically, culturally, and efficiently.
Actions
Implement Tier I, Phase I of the Facility Master plan construction projects:
• New Elementary Site 1–under construction and opening August 2021
• New Elementary Site 2–breaking ground in Spring 2021 and opening August 2022
Continue focus group meetings to determine the next steps for the "pause" on the plan.
SMART goals
By February 2021, staffing implications for the elementary schools will be determined and communicated.
By March 2021, new boundaries will be created and communicated to the community for Coolidge, Jackson, Truman, Hoover, and Van Buren.
By March 2021, the two new elementary schools will have new names.
By Fall 2021, the next steps for Tier I will be determined through gathering feedback from the community, staff, and analyzing district data: population study, enrollment data, physical building needs, funding capacity, and district needs.
• Focus Group to construct "pause feedback"
• Resurrect FMP Committee to "check-in" and get feedback on next steps
---
School meal accessibility
Current state
School meals play a critical role in the overall health of the child and as we have learned during the 2020 pandemic, school meals proved to be an important link to school and an integral part of education.
School nutrition professionals face a multitude of challenges as they prepare and serve healthy school meals, including detailed nutrition standards, strict food safety requirements, complex regulations and limited budgets. They must also balance needs of student customers, such as food allergies, special dietary restrictions and tastes and preferences. School administrators set meal periods around the academic schedules. Students move in large groups through lines and sit in crowded cafeterias.
Traditional Meal Service – Access to breakfast and lunch:
Breakfast scheduled before the bell
Long lines at breakfast and lunch shifts
Crowded spaces
Behaviors
Length of meal period
Financial barriers
Desired state
The pandemic forced schools to find ways to keep students safe. USDA's waivers including universal free allowed meals to be served differently where students enjoyed small settings eating in the classroom and less crowded cafeterias. Universal free removed barriers for participation and negative stigmas, creating an environment where school meals became part of the school day's curriculum.
Our desired state would be to serve meals in nontraditional ways to meet the needs of all students that support their ability to achieve their educational goals. Imagineering* gives us permission to rethink processes and implement creative methods of service to reach more students.
*Imagineering (from "imagination" and "engineering") is the implementation of creative ideas in practical form. The word was registered as a trademark of Disney Enterprises, Inc. in 1990, [1] and is well known from its use within the name of Walt Disney Imagineering
Theory of action
Investing in access to school meals makes sense (and cents) by contributing to improved student achievement and wellness. IF we reduce barriers and provide easy access to school meals, THEN we will realize an equitable nutritional system worthy return of investment.
Actions
Evaluate traditional and pandemic modified methods of meal service to determine plus/deltas, opportunities for improvement.
Identify barriers and create solution-based outcomes.
Work with schools to implement best service methods at each school.
Collect feedback and evaluate meal participation data to create best practices.
SMART goals
Continue to monitor USDA Waivers for new/extended flexibility opportunities
Survey students in spring of 2021
Survey teachers in spring of 2021
Solicit feedback from Food and Nutrition employees by June 1, 2021
If USDA Universal Meal Waiver ends, return to CEP and Non-CEP sites for 2020-21 SY.
• Evaluate cost to district of universal free breakfast and reduced to free meals.
---
Security
The CRCSD Security plan is rooted in the idea that students will learn most effectively and staff will operate at their highest level when they feel safe and secure. All security initiatives within this plan were created with the goal to increase the security for the students, staff, and any/all visitors in our schools.
Theory of action
IF we implement research-based and best practice security initiatives, THEN our students, staff, family, and community members will feel safe and better prepared to respond and thrive in our learning environment.
Actions
SMART goals
Implement crisis communications plan
• Evaluate CrisisGo or other vendor
• Complete evaluation by June 2021
• Create a phase-in program
• Phase-in program—August 2021
• Create professional learning for administration and staff
• Professional learning implemented by January 2022
• Admin and staff trained by start of 2022-2023 school year
Continue with enhanced run, hide, fight (RHF) training for staff
Mandatory enhanced RHF training for all staff starting 2021-2022 school year
• Building administrator will build time into pre-service or early Friday PLs for this training
• Review the content of this training annually to adhere to best practices
• Create a virtual module for base level learning
Implement virtual model through HR on-boarding process by July of 2021
Complete age-appropriate curriculum to our staff on run, hide, fight
Introduce curriculum for all three levels by the end of the 2021-2022 school year
Staff to provide curriculum to students 2022-2023 school year
---
Transportation
CRCSD Transportation Department's focus is to provide a safe, supportive and collaborative environment while students are being transported and to do so in a more environmentally friendly manner.
Theory of action
IF we invest in the transportation staff members professional growth and development focused on diversity, equity and inclusion, THEN our students will have a safe, supportive and positive experience while being transported.
| Actions | SMART goals |
| --- | --- |
| Use the IDI to improve the department's intercultural awareness. | By the end of the FY 2023 school year, the entire department will have taken the IDI assessment and will have met to review their placement on the IDI continuum and to develop their plan. |
| Improve transportation communication to parents and school staff. | By the end of FY 2022, the transportation webpage will be updated to better explain eligibility requirements, behavior expectations, steps to take to request transportation, and non-public parent reimbursement. |
| | By December 31, 2021, there will be a fully-functioning GPS location tracking system for parents to track their child's bus. |
| Continue to reduce the district's carbon footprint by purchasing more environmentally friendly vehicles. | By the end of FY 2024, 60% of the district's bus fleet will be liquid propane fueled or electric. By FY 2029, only 10% of the fleet will be diesel powered. |