This school year is an important year at Roosevelt Creative Corridor Business Academy: The school building is turning 100 years old. To prepare and celebrate for the anniversary, seventh grade students are immersed in a special centennial curriculum.
As a magnet school, this curriculum is a component of the magnet "design thinking model," and is an example of project-based learning, which includes four-week-long impact projects. Seventh graders are covering topics that include the history of sports at Roosevelt, school technology improvements over time, auditorium and office upgrades, and collecting the perspectives from Roosevelt alumni.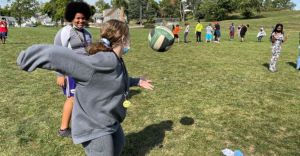 The students in Lauren Fritz's classroom, a seventh grade English language arts teacher, are working hard on their impact projects.
"My group is the journalists, and we got to do a Google Meet with a journalist from the Salt Lake Tribune," explains Fritz. "She gave us a presentation on how to be a journalist, including what you can do in an interview and how to go to school to be a journalist."
All students are encouraged to find content experts in the community who can provide expertise in their area. Fritz's students used the journalist's expertise to improve their interviews with Roosevelt alumni.
"[The journalist] told us things that would be good for an interview," says Makenna, a Roosevelt seventh grader. "Then we asked alumni about five questions and gave them time to talk. We also changed up the questions on the spot."
Students also analyzed archived Roosevelt yearbooks from when the school was a high school.
"We are looking at not only Roosevelt, but what was going on in history," says Fritz. "Students are making different posters to put in the hallways this week with trivia questions, like 'Where is the underground pool located?' and 'Was there a rifle club in 1957?'"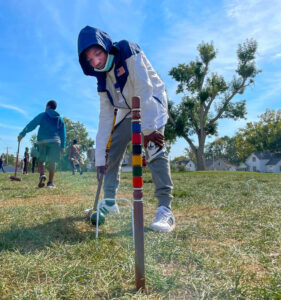 Seventh grade students celebrated their impact project progress this week with a sports field day. Students researched historical sports—such as badminton, croquet, and bocce ball—and organized everything from the event invite to the activities.
"This is all student-led," explains Fritz. "Everything we've done is all them."
View more photos from Roosevelt's celebration here.
---
McKinley STEAM Academy is also celebrating its centennial in 2022. More information will be communicated at a later time. Franklin Middle School will celebrate its centennial in 2023 and Wilson Middle School will celebrate in 2024.
The answers to the two Roosevelt trivia questions are: The underground pool is located under the lunchroom, and yes, there was a rifle club in 1957.
---