Innovative Education
5
Theme-based magnet schools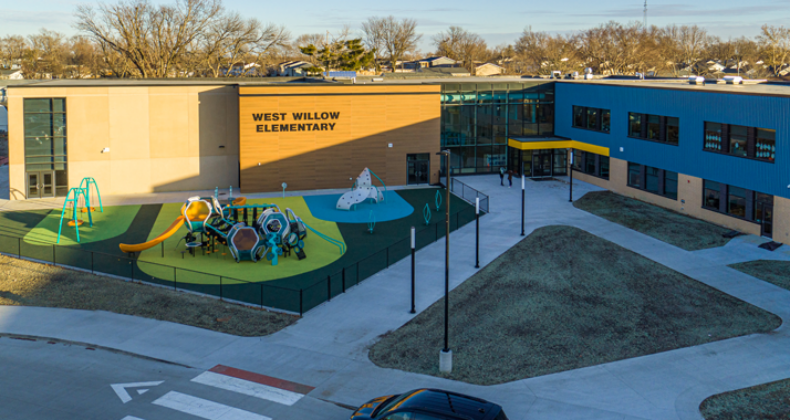 "The Why" Behind the Facilities Master Plan
CRCSD is eager to deliver on its promise of Every Learner. Future Ready. It is evolving its teaching practices, workforce, and facilities to most effectively meet the needs of our 21st century learners. While CRCSD will always honor the past, it is important to plan for the future in a progressive and fiscally-responsible manner.
After Many Years, It's Time
Most CRCSD school buildings were built before the 1950s, and some are more than 100 years old

Older compartmentalized designs don't support open, collaborative learning
Repairs and maintenance are expensive on older buildings
ADA compliance is not being met

It's been 22 years since CRCSD has asked the community for a bond vote

Surrounding school districts have benefited from several successful bond votes over the same time period
Cedar Rapids students should have the same opportunities as their surrounding area peers
CRCSD Needs to Catch Up
CRCSD kids deserve the best facilities to prepare them for the future so they can be competitive as they move forward and seek career readiness
Extracurricular and activities spaces are not currently equivalent to the surrounding school districts
Enrollment Assessments Affect Change
Facilities decisions are based on enrollment data within geographic areas

Uneven enrollment in certain schools does not align with best practices. For example, the cost per student in a small CRCSD school is $11,000 versus a larger CRCSD school where it is $7,000 per student*
Projected capacity can determine the best fiscal use of existing or potentially-new facilities
Progress Supports CR Economic Development
New school facilities help drive businesses and families to the Cedar Rapids community
A modern school district creates economic appeal
---
CRCSD's goals regarding the historical component of the Facilities Master Plan
Recognize the need for future-ready facilities, honor the stories of the past, and collaborate with the community throughout the process.
Recognize the limitations of buildings that were built in the 1950s, and some more than 100 years ago. All were originally designed with a compartmentalization concept versus future-ready collaboration learning areas. The many non-ADA compliant spaces were not designed for all-inclusive learners. With enrollment fluctuations, CRCSD seeks to utilize the best plan for facilities in the context of fiscal responsibility. For example, a small CRCSD elementary school has a $11,000 cost per pupil versus a larger, four-section CRCSD building that has a $7,000 cost per pupil allocation.*
Honor that we have historic buildings that capture stories from our community. Within the framework of a future-ready vision and the need for fiscal responsibility, seek potential opportunities to capture certain historic elements when applicable or repurpose a facility. While honoring the past, also provide data and information to the public about the additional costs associated with repair, maintenance and ADA compliance in older facilities.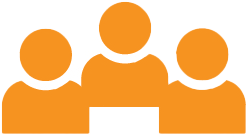 Collaborate with the community to participate in the planning stages, and ensure that accurate information is disseminated. CRCSD will hear all perspectives: those who want state-of-the art facilities, those who want fiscal responsibility through modern-day facility usage, and those who want to preserve the past. Updates, meeting notices, presentations and more information are found on the crschools.us website under Future Ready Facilities.
---
*Based on fiscal year 2020-2021 data.
The following expense categories were used:
instruction/support
building repair/maintenance
custodial staffing/supplies
utilities
meals staffing/supplies
An operational cost per student comparison was conducted:
Madison Elementary (enrollment 185)

Cost per student: $11,092

Viola Gibson Elementary (enrollment 510)
Facilities Master Plan Funding Sources
Different "buckets" help build the future.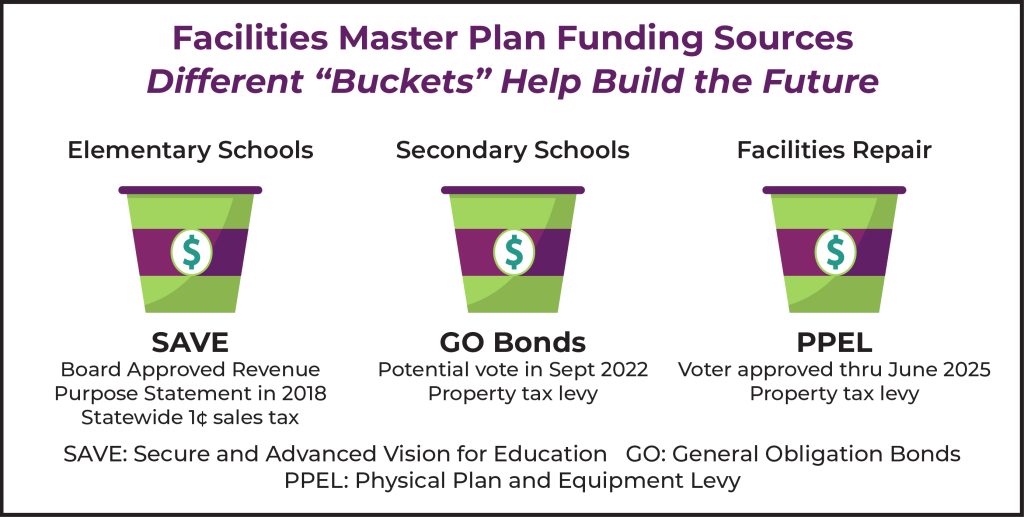 ---