Most in Iowa
54
Nationally board-certified teachers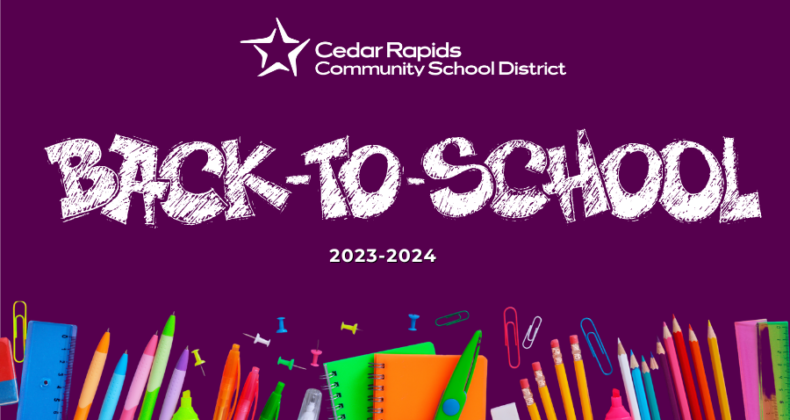 With the start of the 2023-24 school year only a few weeks away, we are eagerly looking forward to the return of our students and families. As always, we remain committed to providing unparalleled support to each and every one of you as you embark on this exciting new academic year.
To ensure a successful school year and an exceptional learning experience for your student, we have compiled a wide range of valuable back-to-school resources for your convenience. We encourage you to check this page regularly, as we will be updating it with new and relevant information as it becomes available. Rest assured that we are here to help you navigate any challenges that may arise to ensure that our students have the best possible educational experience at Cedar Rapids Community School District.
The first day of school for students is Wednesday, August 23rd. However, all 7th & 8th grade students will not start until Thursday, August 24th.
Annual Verification:
CRCSD asks ALL families to complete a yearly Annual Verification. This verification lets us know that your student will be attending a school in the CRCSD for the upcoming school year so that we can adequately plan for classroom assignments and transportation needs. Parents can also sign all permission slips needed for the year (media release, field trip permission, and technology use) and complete forms to receive reduced school fees. Click here to log into the Infinite Campus Parent Portal to complete your Annual Verification. Annual Verification must be completed before school starts. Please contact your student's school office if you have any questions or concerns.
School Supplies:
Going back-to-school shopping? Suggested school supply lists have been updated for the upcoming school year. Please note that reused or recycled supplies are always welcome. There is no Preschool supply list; each teacher will communicate and share their list with families at the start of the year. Click here to see school supply lists for each grade level.
Back-to-School Open House Schedule:
Some schools will be holding back-to-school events, such as orientations and open houses, to allow students to visit their classrooms and meet their teachers. Click here to view the list of back-to-school events dates and times.
Busing:
Our transportation department is working hard to finalize bus routes and student pick-up and drop-off times. To help facilitate this process, we ask all CRCSD families to complete their Annual Verification on the Infinite Campus Parent Portal. To ensure busing for the first day of school, we ask that you complete the annual verification by August 7th. Students' bus route numbers, stops, and pickup times will be available in the Stopfinder app after August 17.
School Meals:
CRCSD is proud to serve our students nutritious meals that provide the right balance of protein, dairy, grain, fruits, and vegetables and follow the Dietary Guidelines for Americans. Families can access the school breakfast and lunch menus online through Nutrislice. We recommend that you review the menus with your student ahead of time to help them plan for balanced meals. Parents should complete their Annual Verification to complete forms for free or reduced meal status.
Cedar Rapids Community School District participates in the Community Eligibility Provision (CEP) Program. This Federal government program offers free breakfast and lunch at 26 of our schools.
If you have a child or children attending Maple Grove Elementary, Kennedy High School, Pierce Elementary, Taft Middle School, Viola Gibson Elementary, Washington High School, and West Willow Elementary School and are interested in meal benefits please complete a Free and Reduced Meal Application below. These schools are outside of the CEP program.
Schools approved for the CEP program are evaluated and assessed each school year to determine eligibility of the program. For the 2023-2024 school year, CRCSD schools participating in the federal program and will provide free meals for all of their students are – Arthur, Cleveland, Cedar River Academy, Erskine, Garfield, Grant, Grant Wood, Harrison, Hiawatha, Hoover, Johnson STEAM Academy, Kenwood Leadership Academy, Madison, Nixon, Van Buren, Wright, Harding, Franklin, McKinley STEAM Academy, Roosevelt CCBA, Wilson, Jefferson, Metro, City View, Polk Alternative, and Truman Early Childhood Center. Receiving free meals at a CEP school does not automatically qualify your child for other school fee waivers. You must complete the Social Economic Survey and release agreement through Annual Verification to determine if you are eligible for school fee waivers.
Attendance:
Regular school attendance is essential for your student's academic success. Students with a strong attendance record are more likely to have positive long-term outcomes in college, employment, and physical and mental health. We understand that there are times when an absence is unavoidable. If your student will be absent from school for any amount of time, please notify your student's school office as soon as possible. If the school is not notified, it will be counted as an unexcused absence. If any barriers prevent your student from attending school every day, please let your school office know so we can help.
Update Contact Information:
To guarantee we have the most up-to-date contact information for parents/guardians, please complete the Annual Verification process using the Infinite Campus Parent Portal. This will ensure you receive all district emails and phone calls. If you have already submitted your student's Annual Verification for this year (after July 1, 2023) and need to make an update, you can do it through Infinite Campus or by contacting your student's school office.
Academic Calendar:
The 2023-24 District Calendar is a valuable resource that provides an overview of all district-wide events and important dates for the school year, including the end of each semester, holidays, and scheduled days off. You can easily access this year's school calendar by clicking here. Please keep in mind that our preschool students have a separate calendar. To ensure that your student doesn't miss any classes, we recommend reviewing the district calendar regularly and scheduling family vacations, medical check-ups, dental visits, and other appointments during school breaks, on Friday afternoons, or over the weekend whenever possible. Let's work together to help your student succeed!
School Hours:
As you plan for the start of the school year, we wanted to share the regular and early dismissal times for K-12 students. We understand that schedules can be busy and complicated, so we hope this information will help you plan ahead. The first day of school for students is Wednesday, August 23rd, and it will be an early dismissal. Additionally, we want to let you know that students are dismissed early on most Fridays during the school year for regularly scheduled professional learning opportunities for our teachers. Please note that preschool students have different school hours.

Regular School Hours:
Elementary Schools: 8:50 am – 3:50 pm
Middle Schools: 7:50 am-2:50 pm
High Schools: 7:50 am – 2:50 pm
Early Dismissal Hours:
Elementary School: 8:50 am – 2:20 pm
Middle School: 7:50 am – 1:20 pm
High School: 7:50 am – 1:20 pm
School Delays & Closings:
In case of hazardous weather or emergency, schools may need to close temporarily for the safety of our students and staff. If this should occur, the district will keep everyone informed through various channels such as local media outlets, the district website, and social media platforms. Your student's school administrators and coaches will also communicate any updates regarding specific activities and athletic events. We kindly remind you to keep your contact information up-to-date on your Infinite Campus Parent Portal, as this is where we will send all school closing announcements.
Technology:
Cedar Rapids Community School District provides a personalized digital experience by providing each student with a device (Google Chrome Book) through the one-to-one program. Students will use this technology to promote academic achievement and provide opportunities to enhance their educational experience. We ask that the student devices are only used for school activities and homework that align with the CRCSD Technology Responsible Use Policy. Parents must complete a Student Device Acknowledgement Form when completing their Annual Verification each year on the Infinite Campus Parent Portal. You can also review the acknowledgment forms by clicking here.
Athletic and Sanctioned Activities Requirement:
All students participating in school-sanctioned sports and/or activities are required to have a physical examination by a licensed healthcare provider each year. Parents/guardians should take the CRCSD Medical Eligibility Form to the appointment for the health care provider to complete. The form must then be uploaded to the school's electronic athletics/activities system or be turned in to the student's school office. Please do not upload/turn in physical exam forms or pre-participation questionnaires. Click here for the Medical Eligibility Form.
Immunizations/Vaccinations:
The State of Iowa requires all students to be up-to-date with immunizations (vaccinations/shots), or have a state-allowed exemption, to attend school in person and virtually. A vaccination record must be uploaded into the Infinite Campus Parent Portal, or be turned in to your student's school by the first day of school. You can typically get vaccination records from your family doctor. Students must be up-to-date on the following immunizations: Dtap (diphtheria, tetanus, and pertussis), polio, MMR (measles, mumps, and rubella), hepatitis B, and varicella immunizations. Incoming seventh-graders are also required to receive the MCV vaccine (meningococcal conjugate vaccine) and a Tdap shot. Incoming 12th graders must have 1 or 2 doses of the MCV vaccine, depending on the age when received their first dose.
Student Health Conditions & Medications:
Your student's health and well-being are important to us. If your student has a health condition or requires regular medication, we ask that you please add this information to your Infinite Campus Parent Portal, either during your Annual Verification or sometime before the start of school. It is important that you share detailed information about your student's health condition and medication with the school so we can support your student the best we can. The school nurse at your student's school may contact you to follow up on any health conditions that may require accommodations or services during the school day. Please feel free to contact your student's school nurse directly should you have any questions or concerns. School Nurse Contact Info
Infinite Campus Parent Portal:
The Infinite Campus Parent Portal is an online tool for parents to access their students' schedules, attendance, grades, contact information, and more. This is also where parents complete their Annual Verification. Parents/guardians who do not have an Infinite Campus Parent Portal account should contact their student's school office to get one set up. Infinite Campus also has a parent app available for download on your Apple or Android devices. Search Google Play or the App Store to find the app.
Field Trip Permission:
Each year, parents must complete a Field Trip Permission Form for their student(s). If a completed form is not on file, students cannot participate in field trips during the school year. These forms are completed in the Annual Verification process on Infinite Campus Parent Portal.
Student Media Release:
Each year, parents must complete a Media Release Form for each of their students. This form allows the school to use photos and videos of their student in newsletters, social media posts, websites, and media stories. These forms are typically completed during the Annual Verification on the Infinite Campus Parent Portal.
District Newsletter:
Want to stay informed about what is happening in our schools? The CRCSD has an award-winning newsletter that is sent out to families, staff, and community members every Friday. It contains newsworthy articles, special announcements, feature stories, essential reminders, photo galleries, and more. While specific building communications are also distributed to families, the district's newsletter is your overall source for important, collective information every week. Click here to sign up for the weekly newsletter and see past newsletters.
Student & Parent Rules & Expectations:
We're excited to kick off the school year at CRCSD! To make sure everyone is on the same page, we want to share our Student & Family Conduct Policies with you. These policies lay out the expectations we have for behavior and conduct within our district. We kindly ask that families take a moment to review these policies with their students to ensure a safe and successful school year. Thank you for your cooperation! Click here for Student & Family Conduct Policies.