Diversity
66
Nations represented by students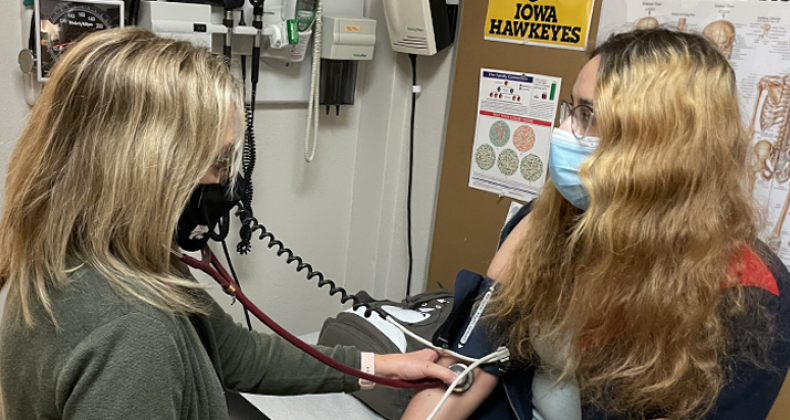 Cedar Rapids Community School District health services enhances student success by decreasing health-related barriers to learning. The health services team helps students reach optimum health and enable them to achieve their fullest potential.
School health services contribute to the goals of the education system and the healthcare system by providing screenings and referrals, administering medications and treatments, providing first aid, providing health counseling and education, and supporting students with chronic health conditions to acquire self-management skills.
The school health services team consists of school nurses and health secretaries, working in partnership with the student, his/her parents/guardians and the student's primary healthcare provider(s).
School nurses
School nursing is a specialized practice of nursing, which protects and promotes student health, facilitates optimal development, and advances academic success. School nurses, grounded in ethical and evidence-based practice, are the leaders who bridge health care and education, provide care coordination, advocate for quality student-centered care, and collaborate to design systems that allow individuals to develop their full potential. The school nurse's role focuses on factors affecting a child's learning in school.

The nurse interprets the student's health care needs to school staff, manages medication administration, and helps in the assessment of physical, social, and emotional health. In addition, school nurses act as a health education resource for teachers, identify health and safety hazards in the schools, and offer health guidance to students and their families. School nurses may have one, and sometimes two, schools depending on student health needs.
Nurse practitioners
Some of our school nurses are also nurse practitioners who provide expanded school health services to students, such as physicals and immunizations, through Metro Care Connection, our school-based health clinics.
Managing student illness/injury during the school day
Students are sent to the health office if they are injured or appear ill. Health office staff will attend to the student's complaint. This may include providing first aid, asking the student questions about how he/she feels, taking a temperature, making observations, talking to the teacher, and contacting the school nurse. Students will be sent home for:
A temperature of 100.4º F or higher
Active, illness related vomiting or diarrhea,
The parent/guardian will be called and the student will be sent home. Other symptoms that influence the decision to send the student home include general appearance and functioning in the classroom. After a period of observation a decision will be made to do one of the following:
Notify the parent/guardian for symptoms of illness or injury of a serious nature as determined by the school nurse and/or health secretary. Not all student visits to the health office will result in parents/guardians being contacted.
Allow the student to rest in the health office for a brief period then return to class.
Students are to be fever-free without fever reducing medication before returning to school. During times of high rates of illness, such as during influenza season, the length of time a student must remain home after fever/symptoms of illness may change as recommended by Linn County Public Health.
Administration of medication to students
---
Contact a school health office
| School | Health Secretary | Phone | Nurse | Phone |
| --- | --- | --- | --- | --- |
| Arthur | Elizabeth Fowler | 319-558-2380 | Kasey Spores | 319-558-4405 |
| Cedar River Academy | Sami Baeza | 319-558-2501 | Teri Schloss | 319-558-1437 |
| Cleveland | Tashaya Robinson | 319-558-2466 | Rachel Barnd | 319-558-1037 |
| Erskine | Eileen Foxhoven | 319-558-2802 | Kasey Spores | 319-558-4405 |
| Garfield | Sarah Leeper | 319-558-2183 | Sarah Hamilton | 319-558-3208 |
| Grant | Brandy Lowery | 319-558-3267 | Teri Schloss | 319-558-1437 |
| Grant Wood | Charlene Adams | 319-558-2799 | Molly Behounek | 319-558-3343 |
| Harrison | Marissa Yorgensen | 319-558-2803 | Lydia Quaid | 319-558-3084 |
| Hiawatha | Kim Comisky | 319-558-2793 | Alyssa Hague | 319-558-3450 |
| Hoover | Gretchen Arcand | 319-558-2370 | Victoria Leyh | 319-558-1867 |
| Jackson | Patty Breja | 319-558-2484 | Rachel Barnd | 319-558-1037 |
| Johnson STEAM Academy | Jenny Emerson | 319-558-2711 | Molly Behounek | 319-558-3343 |
| Kenwood Leadership Academy | Valerie Johansen/Carol Eilers | 319-558-2293 | Lydia Quaid | 319-558-3084 |
| Madison | Betty Zebell | 319-558-2788 | Catie Woodward | 319-558-3605 |
| Nixon | | 319-558-2204 | Megan Dursky | 319-558-4324 |
| Pierce | Deb Palmer | 319-558-2762 | Connie Trautman | 319-558-3754 |
| Truman | Kathryn Tyner | 319-558-2239 | Catie Woodward | 319-558-3605 |
| Van Buren | Michelle Ugarph | 319-558-2307 | Victoria Leyh | 319-558-1867 |
| Viola Gibson | Christa Douglas | 319-558-2565 | Megan Dursky | 319-558-4324 |
| West Willow | Stacy Johnson | 319-558-2075 | Erin LeMieux | 319-558-1707 |
| Wright | Carrie Espinosa | 319-558-2310 | Sarah Hamilton | 319-558-3208 |
| Franklin | Yvette Creager | 319-558-2076 | Ashley Perez | 319-558-3132 |
| Harding | Amber Strong | 319-558-2559 | Amy Duggan | 319-558-3190 |
| McKinley | Ashley Sacora | 319-558-2519 | Ashley Perez | 319-558-3132 |
| RCCBA | Deb Blythe | 319-558-2319 | Amy Duggan | 319-558-3190 |
| Taft | Rebecca Utterback | 319-558-2095 | Stephanie Nederhoff | 319-558-1074 |
| Wilson | Natalie Martin | 319-558-2097 | Stephanie McCurdy | 319-558-1085 |
| Jefferson | Carrie Deam | 319-558-2221 | Toni Delagardelle | 319-558-1088 |
| Kennedy | Kathy Larson | 319-558-2054 | Jill Asprey | 319-558-1122 |
| Metro | Deb Gordon | 319-558-2272 | Sara Gordon | 319-558-3844 |
| Washington | Jillian Nassif | 319-558-2459 | Jill Owens | 319-558-1196 |
| Polk AEC | Leesa Jaeger | 319-558-2475 | Jill Owens | 319-558-1196 |
---
Resources
---
Key contact