Most in Iowa
54
Nationally board-certified teachers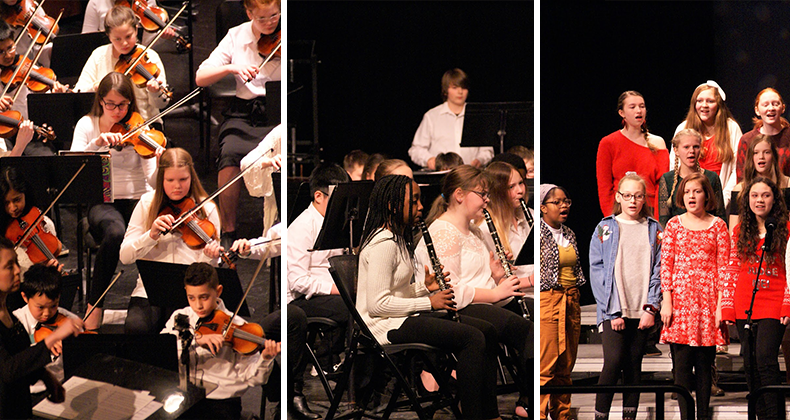 Find information on Cedar Rapids Community School District's outstanding and award-winning music programs here. If you have questions or need specific information on your school's music program, please contact your child's music teacher. You will also find resources and links to expand your music education!
Resources available here include:
Information on music in middle school and high school, including how to register
College scholarship information for participation in music
Kindergarten-12th grade music curriculum information
Other music items to explore!
Find your middle school and high school music program
Franklin Middle School
Harding Middle School
McKinley STEAM Academy
Roosevelt Creative Corridor Business Academy
Taft Middle School
Wilson Middle School
---
Quick facts
Sixth grade students have the opportunity to choose their music class! The choices are band, orchestra, and/or choir.
Students need no musical experience to join band, orchestra, or choir and there are no auditions for these groups.
The BAND instruments are flute, oboe, clarinet, alto saxophone, tenor saxophone, trumpet, French horn, trombone, euphonium, tuba, and percussion. The ORCHESTRA instruments are violin, viola, cello, and bass. CHOIR is a singing ensemble, focusing on multiple components of the singing voice as well as the fundamental mechanics of music.
Students will not get a chance to try the instruments this year. Students should pick the instrument they are most interested in learning. If you have internet access, you can see and hear every instrument HERE:
Band, Orchestra, and Choir sign-up sign up can take place in a number of ways:

Complete online registration
Complete paper registration found in your school's office or music room and return to your teacher
Email your future middle school music teacher

Band and Orchestra begins with 12 summer lessons before sixth grade begins. Your middle school music teacher will send you more information!
There are school instruments available for anyone concerned about the cost of participating. Students choosing to play a large or specialty instrument like French horn, baritone, or tuba may also rent a school instrument.
There may be a limit on certain instruments due to available instruments and creating well-balanced groups, so it is important to also select a second-choice instrument.
Band, orchestra, and choir during the school year
During the school year, band, orchestra, and choir are curricular, graded classes. All curriculum is aligned with the National Music Standards: Creating, Connecting, Responding, and Performing.
Students will have music at least twice per week. Band and Orchestra students will also have a lesson each week for 15 minutes. Teachers are accommodating when scheduling these lessons; please contact your band or orchestra teacher with questions.
Band, orchestra, and choir students will present evening concerts to showcase what they have learned, and it is important for every student to participate.
Students may play an instrument and sing! We call that choir-sharing. You will see that option on the registration form.
Frequently asked questions
How do I pick an instrument if I don't get to try them?

If you have internet access at home, you can see and hear all of the instruments here: http://www.beginband.com/sndclips.shtml

If you like higher sounds you might like violin, flute, oboe, or clarinet. If you like medium/ middle sounds you might like viola, saxophone, trumpet, or French horn. If you like lower sounds you might like cello, bass, trombone, euphonium, or tuba.

If you would like to participate in a jazz band, the traditional jazz band instruments are saxophone (alto, tenor, baritone), trumpet, trombone, drum set, bass, guitar, and piano, but any instrument can be in middle school jazz band!

Most importantly: pick the instrument whose sound you like best and that you are most excited to learn to play (which may not be the instrument that fits in your backpack or that your best friend is playing and that's okay!)
How do I know if the instrument I want to play is part of band or orchestra?

The BAND instruments include the woodwind, brass, and percussion instruments: flute, oboe, clarinet, alto saxophone, tenor saxophone, trumpet, French horn, trombone, euphonium, tuba, and percussion. The ORCHESTRA instruments include the string instruments: violin, viola, cello, and bass.
How do I get an instrument?

Most families rent or buy from a local store that specializes in musical instruments (such as West Music, www.westmusic.com; Griggs Music www.griggsmusic.com; or Schultz Strings www.schultzstrings.com ). Families with financial concerns or those choosing a large/specialty instrument (oboe, French horn, euphonium, tuba, cello, or bass) may rent from the school. Prices for school rentals depend on families qualifying for reduced or free school fees.
Can we buy an instrument online?

Some families choose to purchase an instrument privately or online. Instruments sold online vary greatly in quality. Please do not hesitate to reach out to your future music teacher before you purchase!
What if I have an instrument at home or in my family to use? Can I use that instrument?

Of course! However, instruments need to be maintained just like a car, so we would recommend you have the instrument "tuned up" before starting lessons. Some local businesses who offer this service would be Millar Woodwind Repair, Barnard Instrument Repair, West Music, or Griggs Music.
What if I can't afford to be in band or orchestra?

Every student in the Cedar Rapids Community School District has the opportunity to play an instrument regardless of their financial situation. If you need assistance with anything, please contact your middle school music teacher and we are happy to help any way we can.
Why should I play an instrument?

Because it's fun and it's good for you! This is the one time in your life where you can get great instruction for a nominal cost. You will not find an adult who says: "I wish I wouldn't have tried a musical instrument," but you will find those who wish they would have gotten the chance.
What if I've never played an instrument?

That's okay! Nearly all of the sixth-grade band and orchestra students we work with have never played an instrument. We will teach you everything you need to know.
What is percussion?

Percussion is drums, mallet instruments like xylophone and bells, and auxiliary instruments like cymbals, tambourine, etc. Students who sign up for percussion will receive lessons on drums and bells.
I've heard that you need to have two years of piano lessons to do percussion – is that true?

Prior piano experience makes starting percussion much easier since you are learning two instruments (bells and drums), but it is not a requirement.
What is choir?

Choir is singing! You may also hear it called Chorus or Vocal Music.
What if I have other questions?

Contact your middle school music teachers!
---
Middle school music teachers
Franklin Middle School
Harding Middle School
McKinley STEAM Academy
Roosevelt Creative Corridor Business Academy
Taft Middle School
Wilson Middle School
---
Resources