Congratulations to our newly sworn-in board members, Jennifer Borcherding, Nancy Humbles, and Marcy Roundtree! Directors Borcherding, Humbles, and Roundtree were each sworn in for a four-year term during the November 15 Organizational Board of Education Meeting.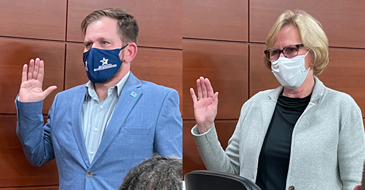 Additionally, Director David Tominsky was elected Board President, and Director Cindy Garlock was elected Board Vice President. Congratulations to both President Tominsky and Vice President Garlock!
Cedar Rapids Community School District would also like to extend a special thank you to Scot Reisinger who was appointed in February 2021 to fill the Board of Directors, At-Large position due to the unexpected passing of Director Gary Anhalt. CRCSD is grateful for Director Reisinger's service.
---