Diversity
70+
Languages spoken in our schools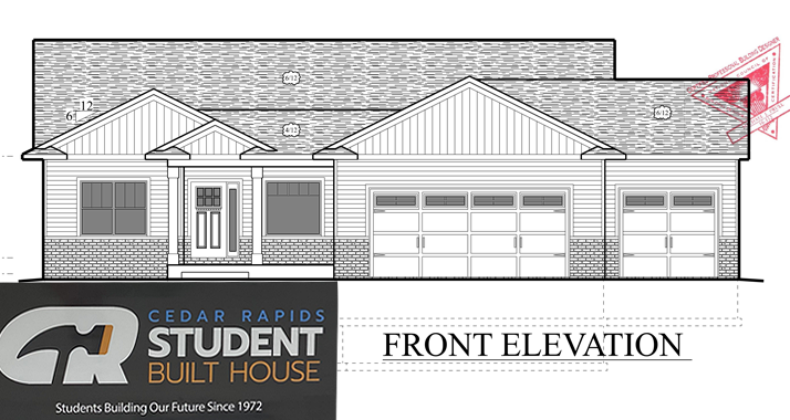 Launched in 1972, the student-built house program is a year-long residential trades program for Cedar Rapids Community School District high school juniors and seniors. During the year, students build a single family home from the ground up, and develop technical skills, collaborate with local employers, and explore related careers.
During the 2021-22 school year—the program's 50th year—students are building a home in Hiawatha. Read more about this year's home.
---
Sub-contractors and suppliers
Thanks to these professionals who work with students to help build a successful project.
| Task/product | Sub-contractors | Contact |
| --- | --- | --- |
| Excavation | Koelker Excavation | 319-373-2287 |
| Concrete work | Rogers Concrete | 319-462-4290 |
| Plumbing | Colony Plumbing | 319-364-4328 |
| Heating & Cooling | Colony Heating & Cooling | 319-364-4328 |
| Electrical | Benchmark Electric | 319-389-1359 |
| Framing Partner | Madsen Custom Homes | 319-310-3918 |
| Cabinets | Fashion Par Kitchens | 319-377-7357 |
| Countertops | Elite Stone | 319-450-0777 |
| Appliances | Home Appliance | 319-365-8150 |
| Trim Carpentry | Klawiter Construction LLC | 319-350-4944 |
| Interior Finishes | Madsen Custom Homes | 319-310-3918 |
| Interior Glass | Allied Glass | 319-364-2495 |
| Stone | Kings Material/Seedorff Masonry | 319-363-0233 |
| Garage Doors | Ollinger Garage Doors | 319-223-5707 |
| Drywall | Dan Gardner Drywall | 319-377-1507 |
| Flooring | Carpet King | 319-531-1389 |
| Insulation | Kinzler Insulation | 319-366-3080 |
| Painting | Calef Painting | 319-573-9904 |
| Siding | Klawiter Construction LLC | 319-350-4944 |
| Gutters | All Eastern IA Gutters | 319-364-5724 |
| Lumber Supplier | Atkins Lumber | 319-446-7654 |
Tasks, sub-contractors, and contact information for 2021-2022
---
Resources
---
Key contacts